Announcement from Coach Seyer regarding the XC meet on 9/20/22 at Oak Ridge. Because of the predicted heat on Tuesday, we are changing the race schedule a bit. We will push the first race off until 5:00 in hopes that the weather begins to cool off by then. We will not be running a Varsity and JV. We will just run everyone together and score the top 5 for each team. 40 medals will be given out for HS Girls and Boys and 25 for each Junior High. The schedule will be as follows: ALL High School Girls--5:00 ALL High School Boys--5:45 ALL Junior High Boys / Girls--6:30 (5 minute delay between boys and girls) If you are able to help out around the course on Tuesday, please meet me at the ball field at 4:15 so I can give you a spot to watch! Thanks for being flexible with our good ole Southeast Missouri weather!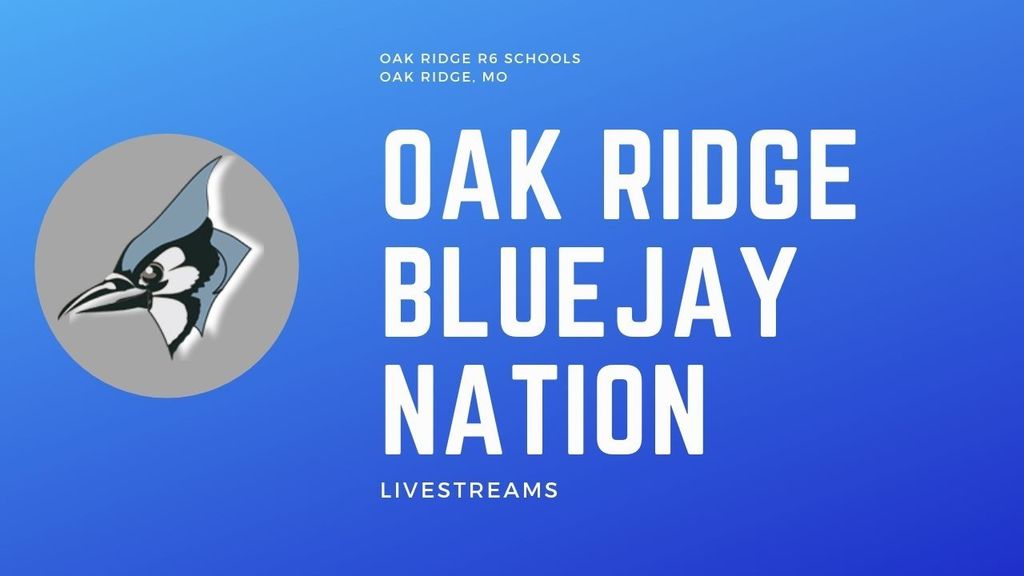 Important update about today's volleyball game. The game has been moved to Oak Ridge tonight vs Oran. The JV game will start at 5:30pm. Oran has lost power and it has not come back on yet so we are going to just move the game here. So, volleyball home game today vs Oran at 5:30pm.

Updated Fall Formal Info!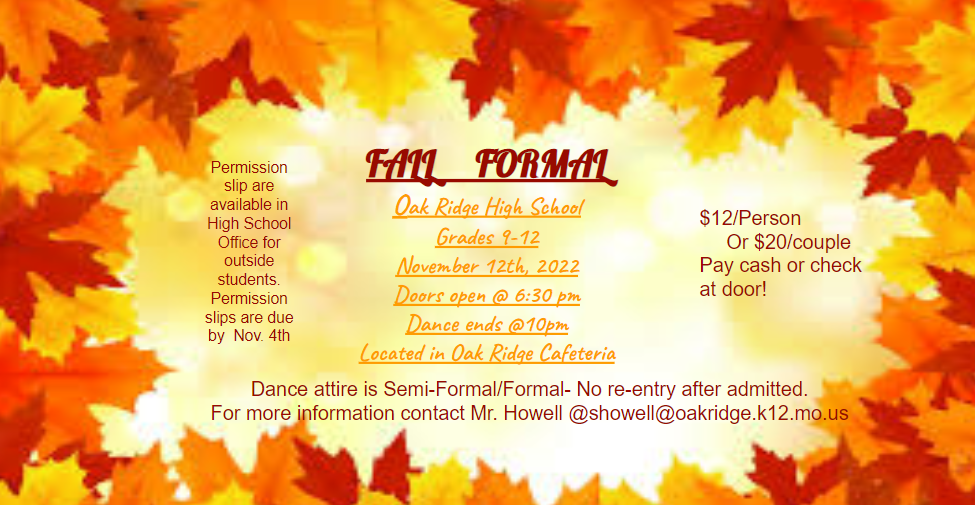 Oak Ridge has the following openings available: 2 full time custodial positions 1 part time Parents as Teachers Educator 1 part time bus mechanic Please visit
www.oakridger6schools.com/page/employment
to apply. It's a Great Day to be a Blue Jay!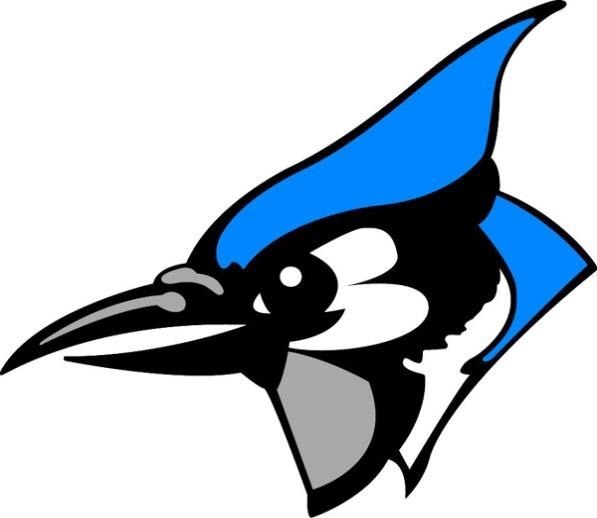 Results from tonight's games JHGB: 6/7 grade beat Kelly and 7/8 grade lost in a tough game 24-21. HSVB: JV beat Zalma in the one set they played and Varsity beat Zalma in 3 sets. There are no games tomorrow but we want to wish best of luck to all our students that are showing their animals the rest of the week at the fair.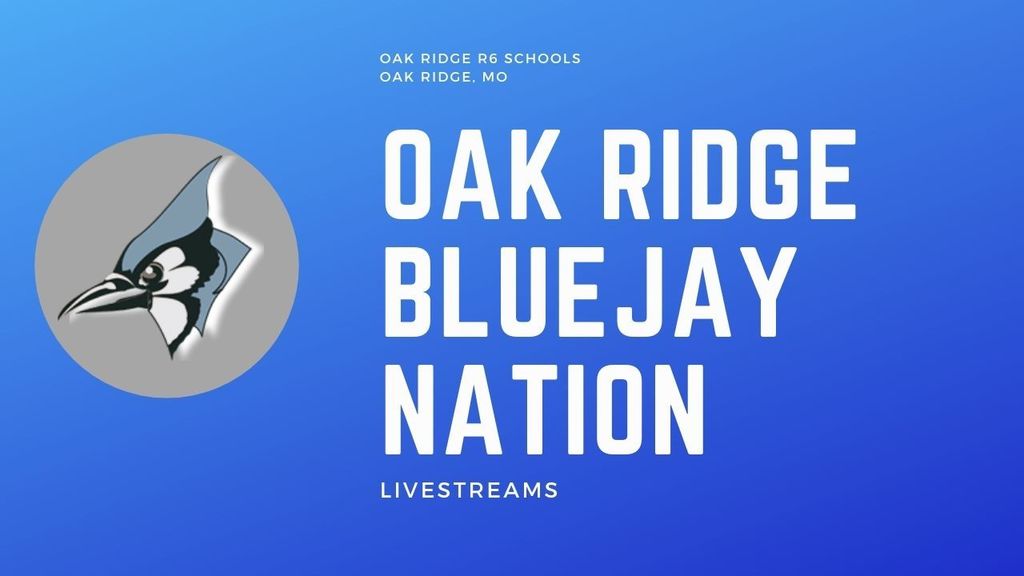 Come out and support the Bluejays tonight vs. Zalma, Volleyball!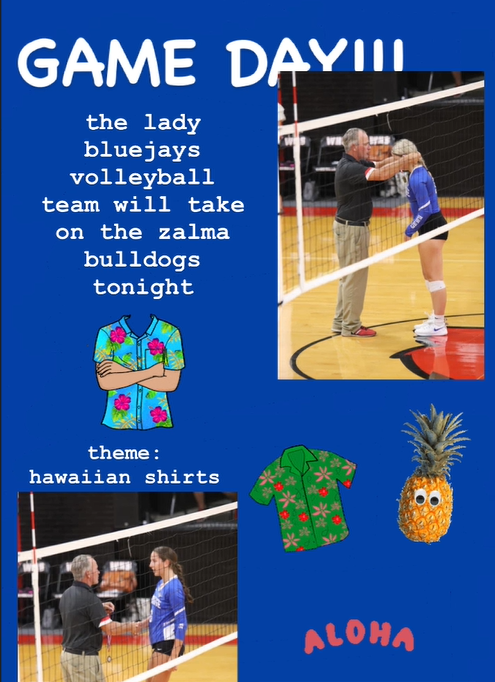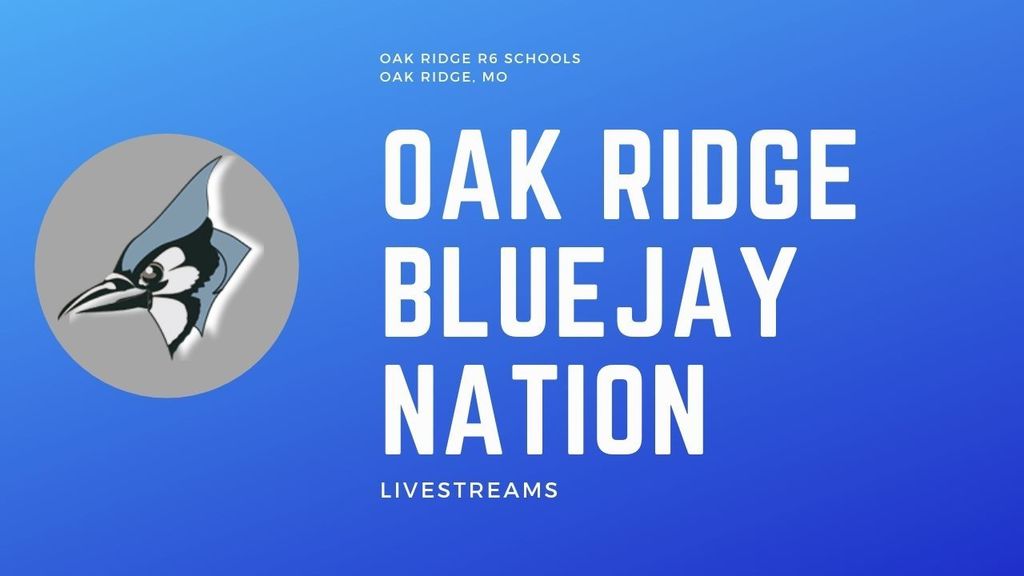 It's Game Day! Girls volleyball and JH girls basketball both play tonight. I have live stream links for both. HSVB is traveling to district opponent Crystal City for a JV/Varsity game starting at 5:30pm Here is the live stream link.
https://www.youtube.com/channel/UCPkyGIfW3o5uft-DejeaGnA
JHGB have a home game vs Scott City starting at 6pm. Here is the live stream link for that game.
https://youtu.be/3RDKz0NXJMY
Good luck to both teams. Go BlueJays!
Good evening. Here is the schedule for this week. Week of 9/12-9/17 9/12: HSVB @ Crystal City 5:30pm, bus leaves at 3pm; JHGB vs Scott City 6pm 9/13: HSVB vs Zalma (1 set of JV, full varsity game) 6pm; JHGB @ Kelly 6pm, bus leaves at 4:30pm 9/14: No Games 9/15: HSVB @ Oran 5pm, bus leaves at 3:30pm 9/16: No Games 9/17: HSXC/JHXC @ Cape Central (Osage Park) 8am. Please let me know if you have any questions and have a great rest of your Sunday.

Oak Ridge Cross Country Team is off and running!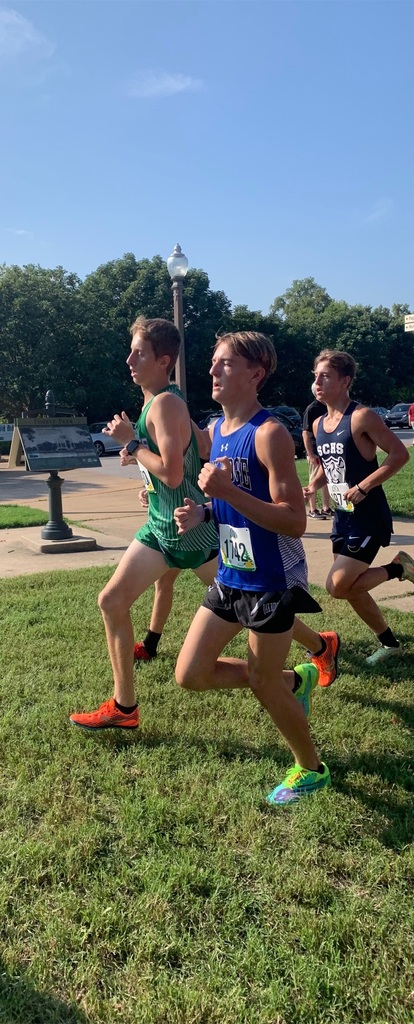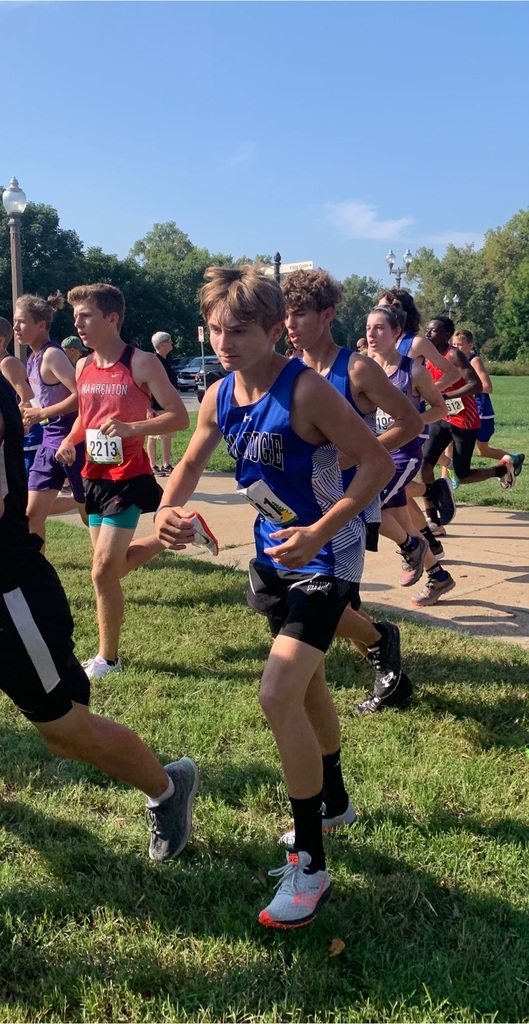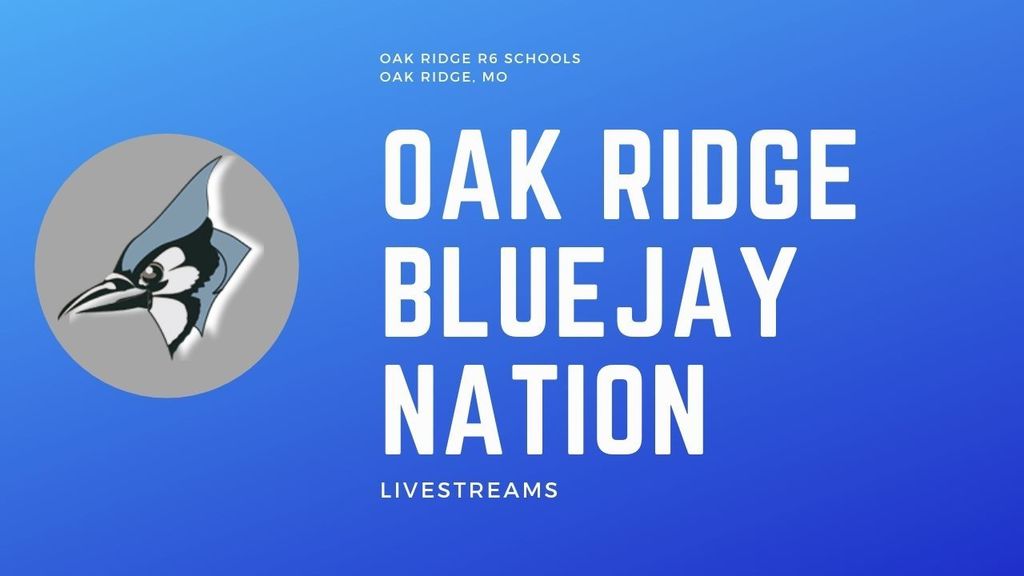 Hello BlueJay fans. Today is GAME DAY for our JHGB team. Home opener and season opener vs Chaffee that will bring back a familiar face with Coach Schonhoff as the head coach for the Red Devils. Come on out and support these girls as they have been working hard in practice. Game starts at 6pm. I will share the live stream link this afternoon. I also have a couple of changes with our schedule that I wanted to send out. The HSVB game at Oran has been changed to 9/15 @ Oran with a 5pm start time for JV and varsity to follow. On 9/12 JHGB vs Scott City will be 2 qtrs of 7th and full 8th grade game starting at 6pm. On 9/26 it's girls night at Oak Ridge. JHGB will play one game vs Advance starting at 430pm. After that, our HSVB team will take on Woodland. JV first with varsity to follow. That's it for now but I'll keep you posted if any other changes. Let me know if you have any questions and have a great rest of your day!

Oak Ridge JHXC at Jackson meet Tuesday. Both teams placed third. Great job team!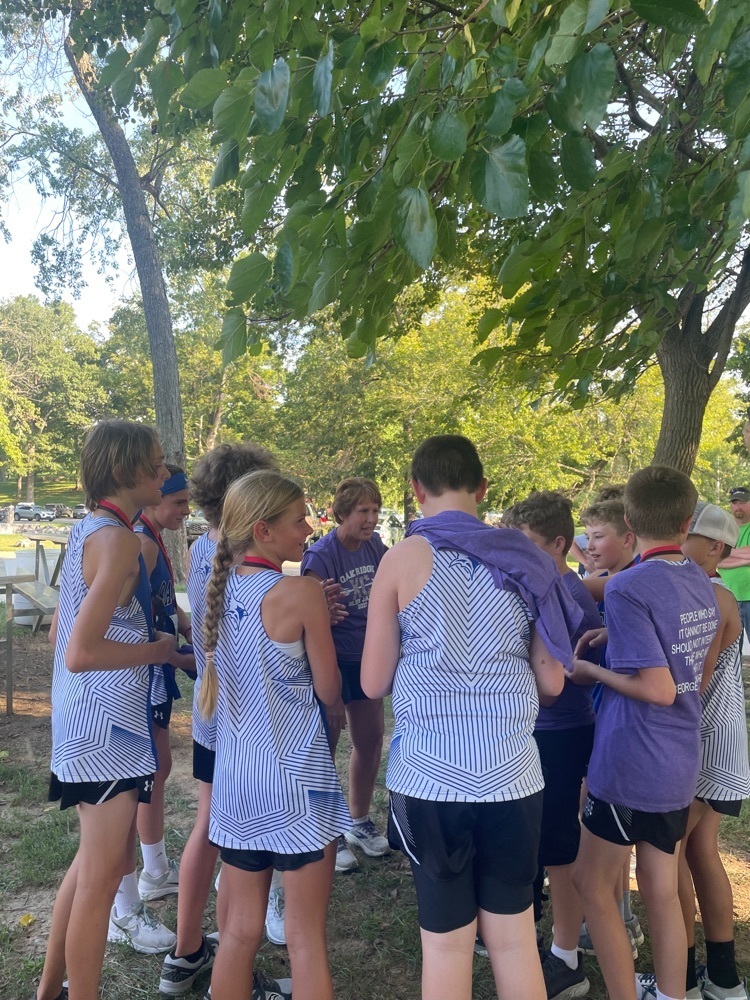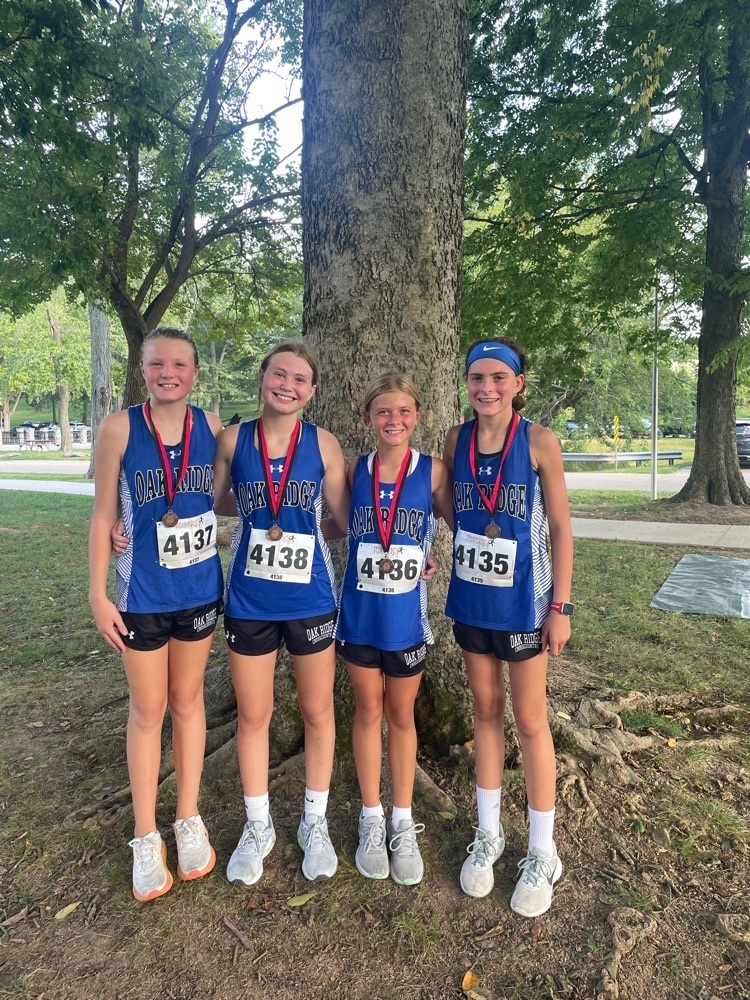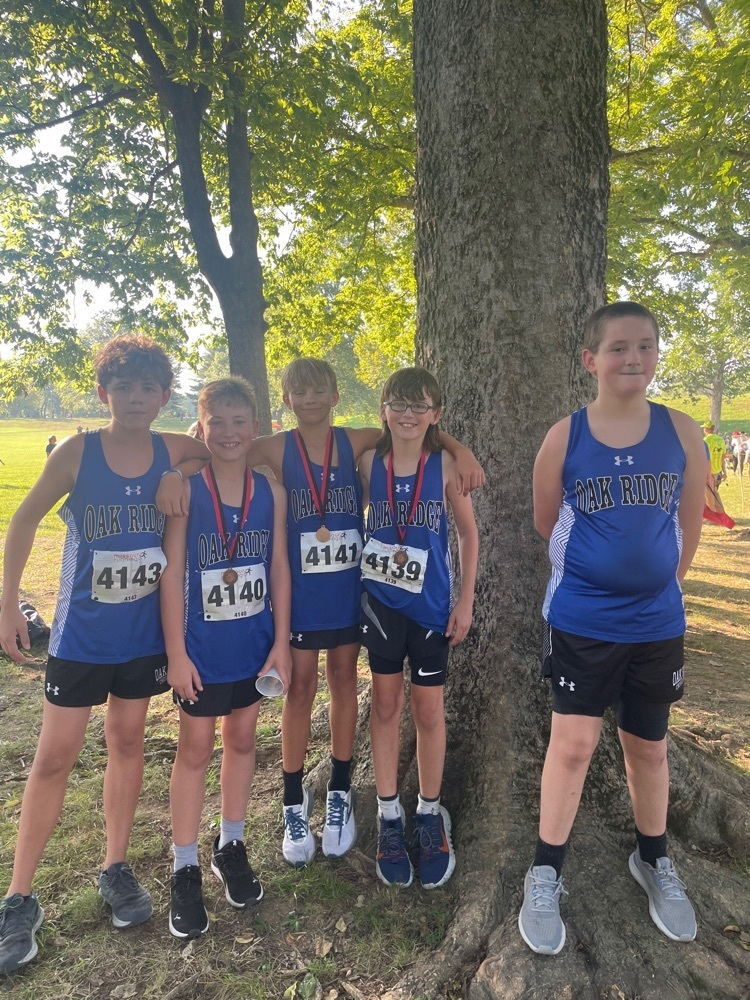 Happy Labor Day! Here is what the schedule for the week of 9/5-9/10 looks like. 9/5: No School/No Games 9/6: JHXC @ Jackson Park 4pm, bus leaves at 2:30pm; HSVB @ Charleston 5pm, bus leaves on or before 3pm 9/7: Fall Sports/Band Pictures in the New Gym right after school. This includes Senior Banner Pictures. 9/8: JHGB vs Chaffee 6pm 9/9: HSVB @ Dig For Life Tournament; games @ 5:20 & 7:50pm @ Rec Center Show Me Center 9/10: HSXC @ Forest Park 9am, bus leaves at 5:30am; HSVB @ Dig for Life Tournament, games @ 9:40am @ Rec Center/Show Me Center and TBA depending on how we do in pool play. Bus will leave at 8:30am. Thanks and have a great rest of your evening.

No School Monday, September 5.